Investor Tutorial
Free Access: Log on to www.dacbond.com and sign on under DAC Bond. If you are new to the DAC system, please click on Register in the top right hand corner and complete the registration form. You must read and agree to the Terms of Use before proceeding.ey, HIPPA and GLBA. DAC's full disaster recovery program provides the highest levels of uptime, availability and responsiveness.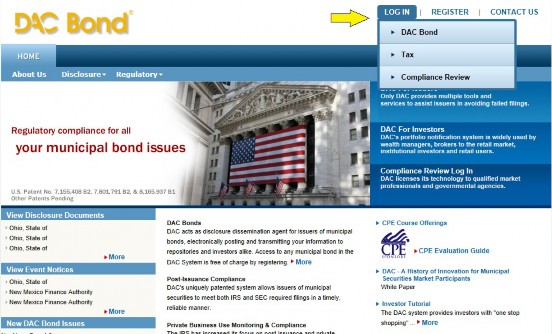 Search: You may search by Obligor name or simply by selecting an alpha character (or by selecting a letter) to view all Obligors that begin with that character/letter.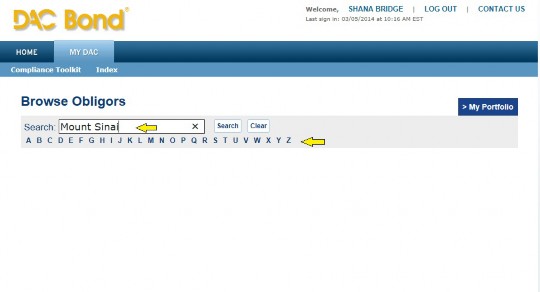 Filing History: Once you have located the Obligor you may view their 5-Year Filing History of all documents. The History provides the Document Description, the Filing Due Date (if required) and the actual Filing Date. You may also check the "Alerts" box to receive a link to all filings for this Obligor going forward, click the Q&A link to post questions for the obligor or click the webcast icon to listen to the webcast.
Free Document Access: To view or download documents for any given Obligor, click on the PDF icon in the "Document" column. You may also view or download the receipts for each filing by clicking the icon in the "Receipt" column.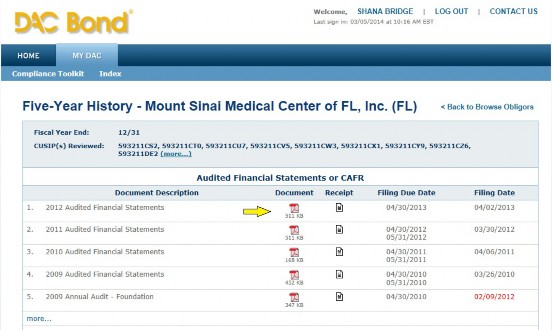 Issuer e-mail notifications: To be notified via e-mail of any new filings by an Obligor please check the "Alerts" box followed by the "Submit" button next to the Obligor's name.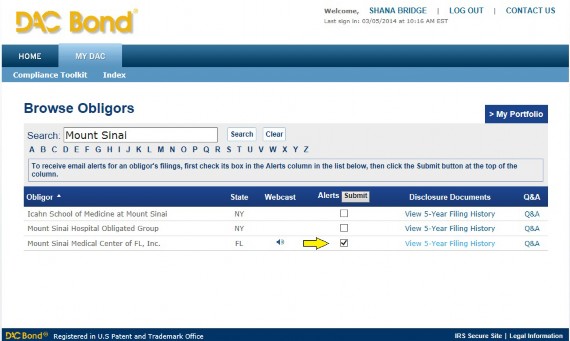 Should you have any questions or require further assistance, please contact the DAC Help Desk at 888-824-2663.

Digital Assurance Certification
315 East Robinson Street
Suite 300
Orlando, FL 32801
Phone: (888) 824-2663
Email: support@dacbond.com